Lewis and Clark National Historical Park (LCNHP) is the home site of Fort Clatsop's 2nd replica. What many visitors don't know about us is that we're much more than just Fort Clatsop! There are a myriad of other sites that are either managed by LCNHP or by State Parks, connected by Lewis and Clark's time here on the coast and going by the name "Lewis and Clark National and State Historical Parks." Among these are sites such as:
Clark's Dismal Nitch
Netul Landing
Middle Village / Station Camp
Fort Stevens State Park
And many more!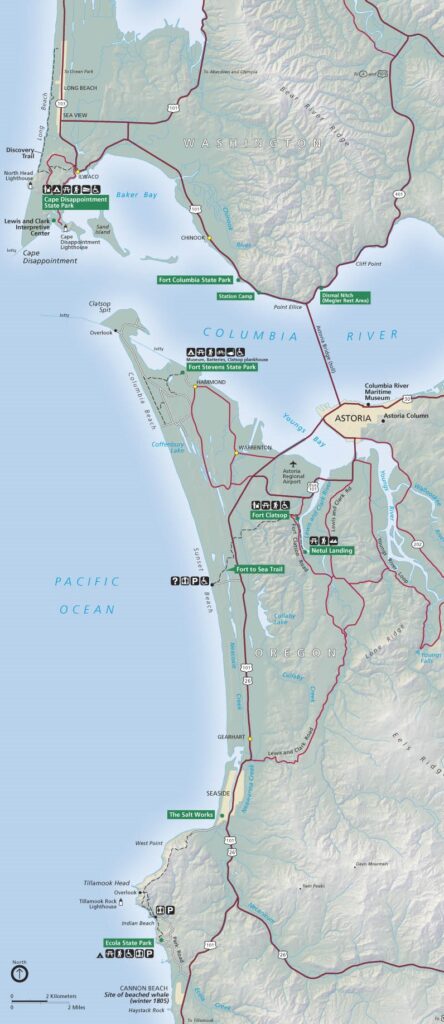 On top of these locations, there are also 14.5 miles of hiking trails
split between 5 unique trails located within the units of LCNHP.
These include:
The Fort to Sea Trail
The Netul River Trail
The Kwis Kwis Trail
The South Slough Trail
The Clay Pit Pond Trail
Are all of these names familiar to you? If not don't worry. Instead, you may wish to stay tuned and make sure to catch our next newsletters. From here on out we are going to be covering the many sites, trails, and more that Lewis and Clark National Historical Park has to offer. We'll be exploring the history and current offerings that make each site unique, inspiring you to visit your local National Park and State Parks. In our next issue we'll be taking a look at Netul Landing. We hope you'll check back in then!
Have you been to many of our sites already and want a way to display this achievement or want a great way to remind yourself of the sites you still need to visit? For a limited time only you can buy our Lewis & Clark National and State Historical Parks poster for just $5! Item #159, available both in store and online at FortClatsopBookstore.com.