In the National Park Service, May is Historic Preservation month! As a National Historical Park, part of Fort Clatsop's mission is to preserve not only the story of the Lewis and Clark Expedition, the many Indigenous peoples, and the landscape, but the replica of Fort Clatsop itself.
As the re-creation of Fort Clatsop is constructed of wood in the middle of a temperate rainforest with an average yearly rainfall of at least 70 inches, and in a zone where our proximity to the Pacific Ocean keeps the average temperature often above freezing in the winter (so that bugs often don't die off) it is easy to see why decay may set in. Rotting of the wood of the fort is simply unavoidable. As fungus and insects whittle away at the wood, it eventually comes to the point where it needs replacing.
Luckily for us, the skilled maintenance division here at Lewis and Clark National Historical Park is up to the task of May's monthly theme. If you visit us here at Fort Clatsop you'll likely notice the new Western Redcedar roof as well as new Douglas Fir gates among other fixes. While it may look out of place for now, worry not, as in our climate it weathers quickly and it won't be long before it matches the rest of the fort to give it an historical appearance!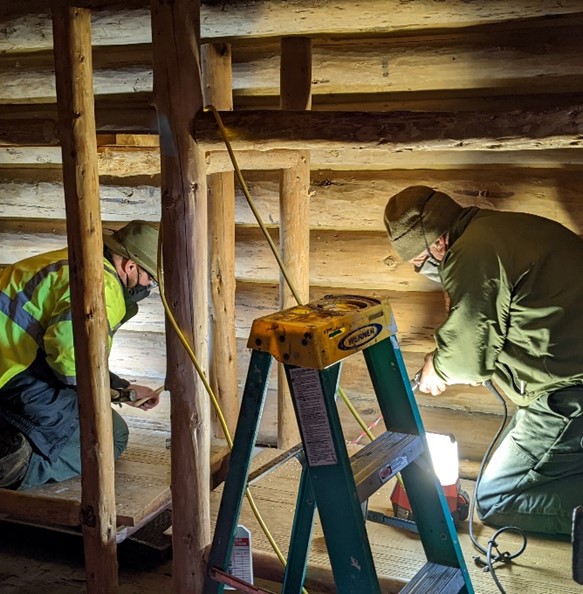 In the meantime, why not enjoy the Fort on a rainy day and experience the drip-free interiors the new roof now provides?
According to the NPS website: "Historic preservation is a conversation with our past about our future. It provides us with opportunities to ask, 'What is important in our history?' and 'What parts of our past can we preserve for the future?' Through historic preservation, we look at history in different ways, ask different questions of the past, and learn new things about our history and ourselves." Find more information on Historic Preservation at nps.gov/subjects/historicpreservation/index.html
To contribute directly to local historic preservation, consider becoming a member of the Lewis and Clark National Park Association (LCNPA). Donations and membership funds go directly to support both the physical preservation of Fort Clatsop through aid purchases of lumber and other supplies as well as the preservation of stories, people, and culture through education. By supporting LCNPA, you support the preservation of the past for a better future.