By Ben Najera, LCNHP Volunteer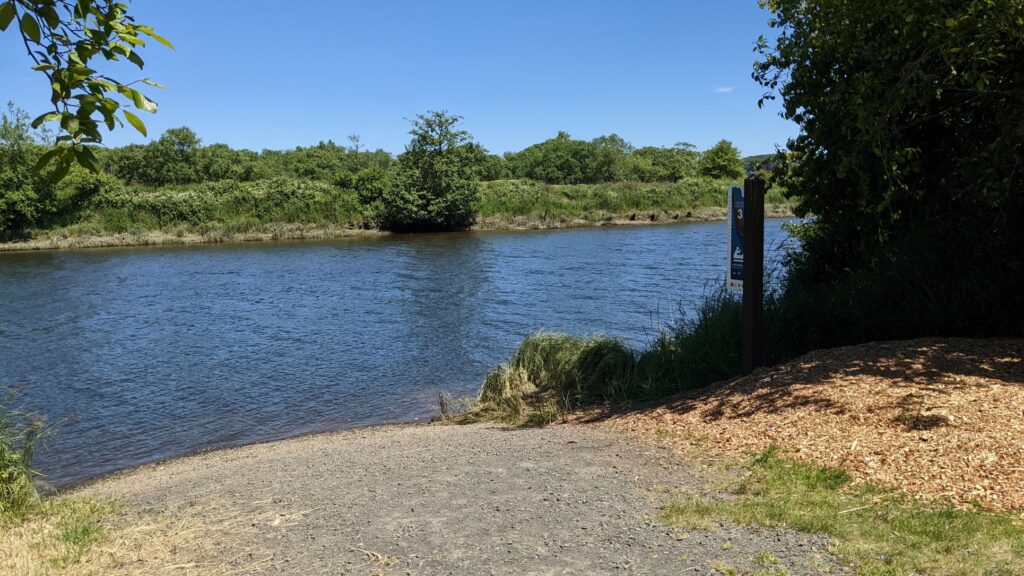 While visiting Fort Clatsop, you may have seen signs pointing you towards the Netul River Trail. Perhaps you even ventured down a couple hundred yards and reached the historic canoe landing found along the trail where Lewis and Clark's crew docked their canoes. However, if you haven't gone the full mile down the trail, then you may have missed the great spot known as Netul Landing!
Accessible both by car or by the aforementioned trail, Netul Landing is divided into north and south segments. In modern day, the northern half is home to a picnic shelter with interpretive signage inside detailing the Lewis and Clark expedition as well as the local Clatsop people and, of course, picnic benches! This shelter is directly beside a bulkhead that provides a fantastic view of the Lewis and Clark River with more picnic benches included.
The southern half includes a few more shaded picnic benches, minus the interpretive paneling, and is also home to the kayak launch and the carefully cultivated LEWI Ethnobotanical garden you can walk through, each section being home to native plants found in different local regions such as wetlands, grasslands, and more. If you keep an eye out while exploring, you may even find a secluded bench or two with a wonderful view of the river off the main path.
Up and down the whole Lewis and Clark River, you'll find wood and metal pilings. If you had a time machine you'd be able to go back to the early 1900s and see what they were truly used for: log organization! During the height of the logging industry along the Lewis and Clark River, you'd find Netul Landing itself was the wet sort yard and major industrial site. Prior to 1925, you'd also find the name of the river being different, then known as the Netul River.
Take that time machine back even further to the winter of 1805-06 and you'd find the Corps of Discovery exploring this area and the local Indigenous people using the river itself as a highway to come meet, greet, and trade with the expedition. This wasn't anything new however, as for many many years prior to Lewis and Clark's arrival here, many Indigenous people used this and the connecting rivers for travel. Both local peoples as well as those from as far north as the northern tip of current day Washington had come down and through the Lewis and Clark River to trade and socialize.
Next time you're in the area, why not come down and check Netul Landing out? With picnic benches and interpretive signs, you can be sure it'll be a place to relax and learn about history and the environment.